Date: 07/02/2020 - Gullivers World – A very fun theme park bridal shoot – by Sarah Glynn North West Wedding Photographer
GULLIVERS BRIDAL SHOOT
All you fun loving people wanting a wedding thats a bit different this is not a drill!
And what better time to take a look at an amazing photoshoot we did back in September 2019 at this fantastic venue: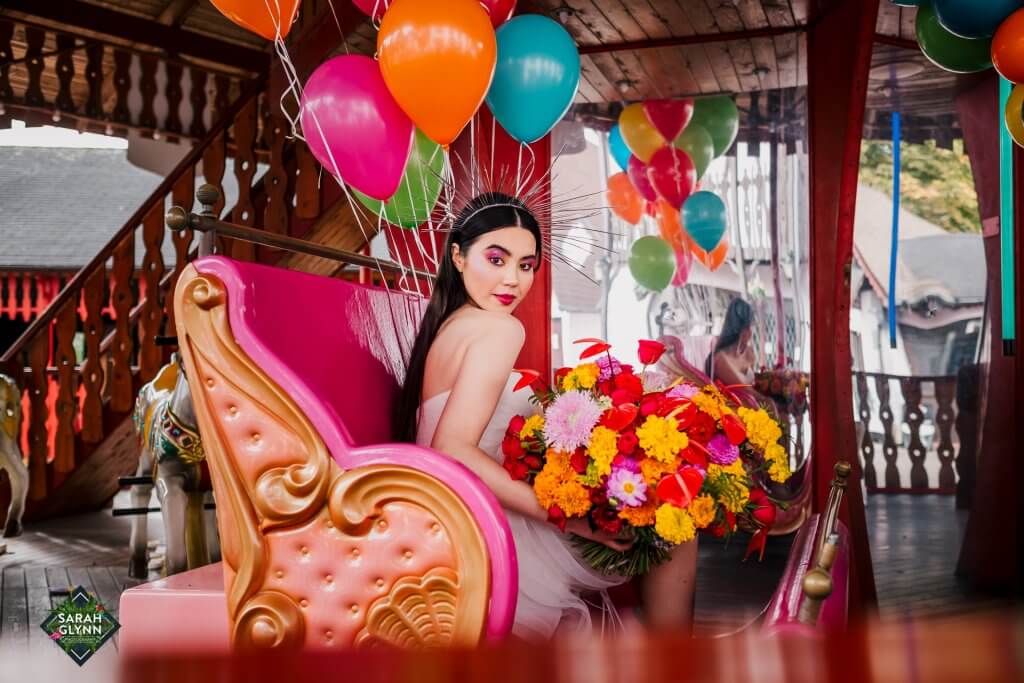 So our super fun and fabulous shoot took place at the awesome Gullivers World Theme Park in Warrington. https://www.gulliversfun.co.uk and we were incredibly lucky to not only have their park to ourselves but we were allowed access to the ENTIRE park!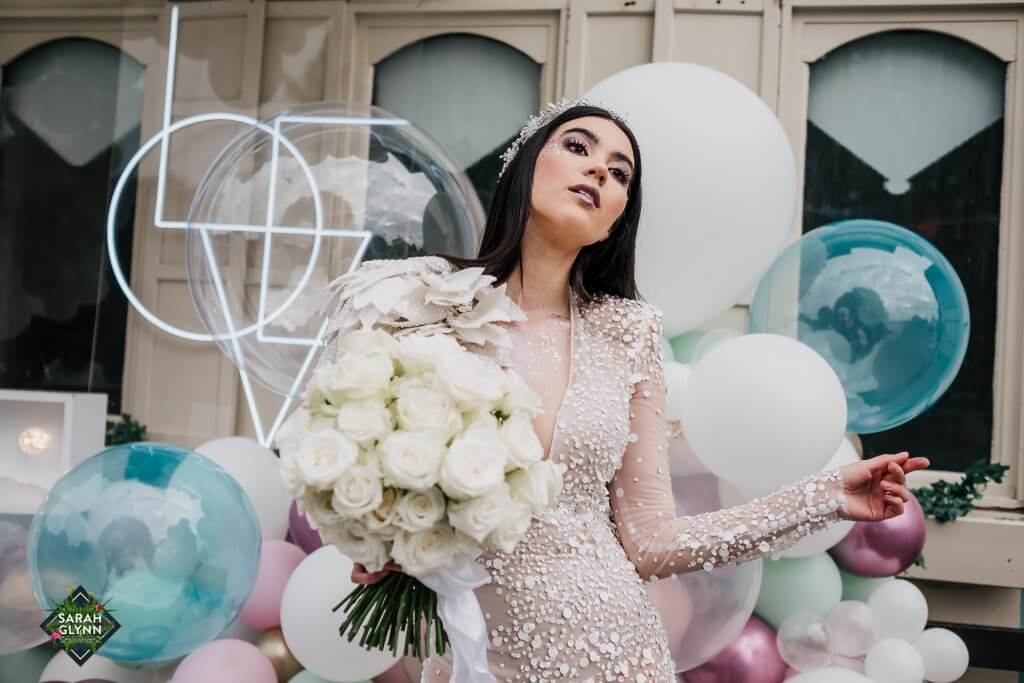 J&J designs are so rock and roll, Amy arrived with potentially 30 dresses… ranging from £700 to over £6000!!!! Amy is not bothered if you get her dresses dirty, you can lie your model on the ground, you can walk through muddy wood chip, you can lean against dirt…so obviously we did all these things with no less than SIX of her delicious frocks. Amy brings dresses that are in the models size so its just so much easier to shoot and be creative knowing you can basically do anything you want. Her dresses are absolutely stunning and if you want to stand out and have something that will knock the socks off your guests as you walk down the aisle then SHE is your lady! https://www.jandjdesignsbridal.com/jandj-designs/ – Stoke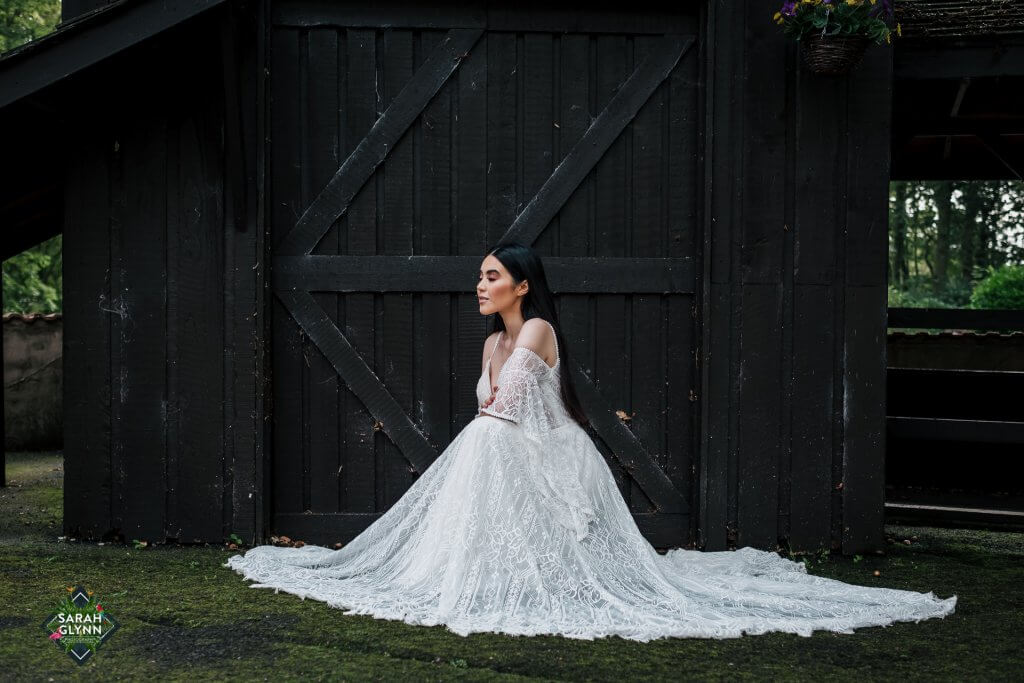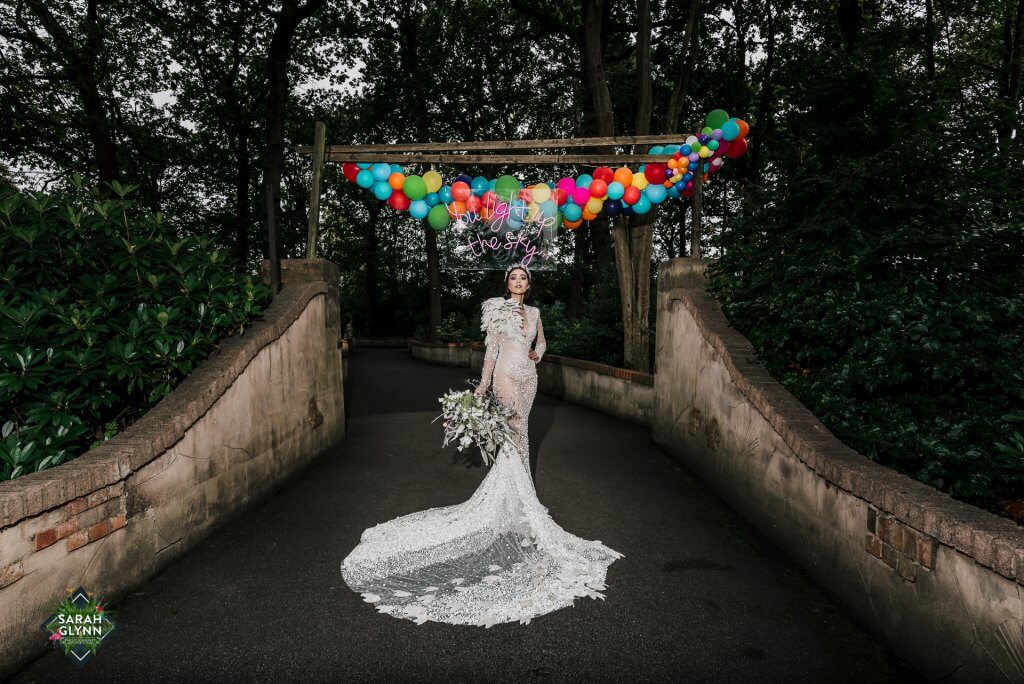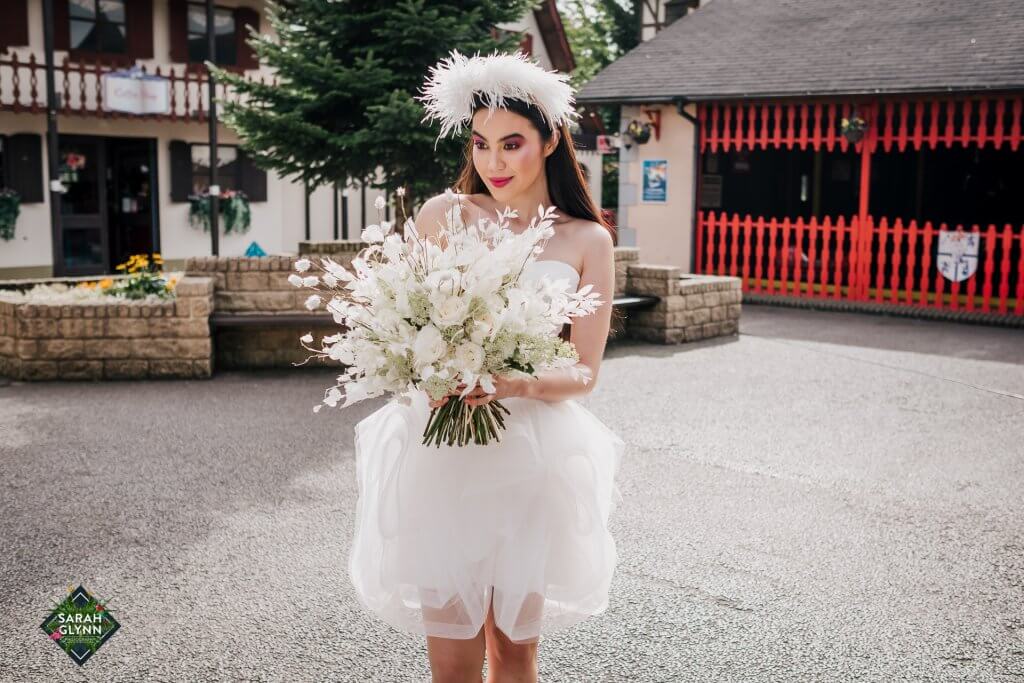 Andrea was our make up artist. As well as weddings she does LOTS of fashion shoots and this year she made the national news when she went to Glastonbury dressed as a butterfly so obviously she was perfect for such a creative shoot. She totally got the themes (natural, neon, Disney Princess and Ice Queen) and wasn't fazed at all by the range of ideas and was spot on with the make up. She is an absolute dream to work with and super easy going and lovely and always helpful on the shoots as well I love my Andrea. https://www.facebook.com/makeupwearingunicorn/ – Liverpool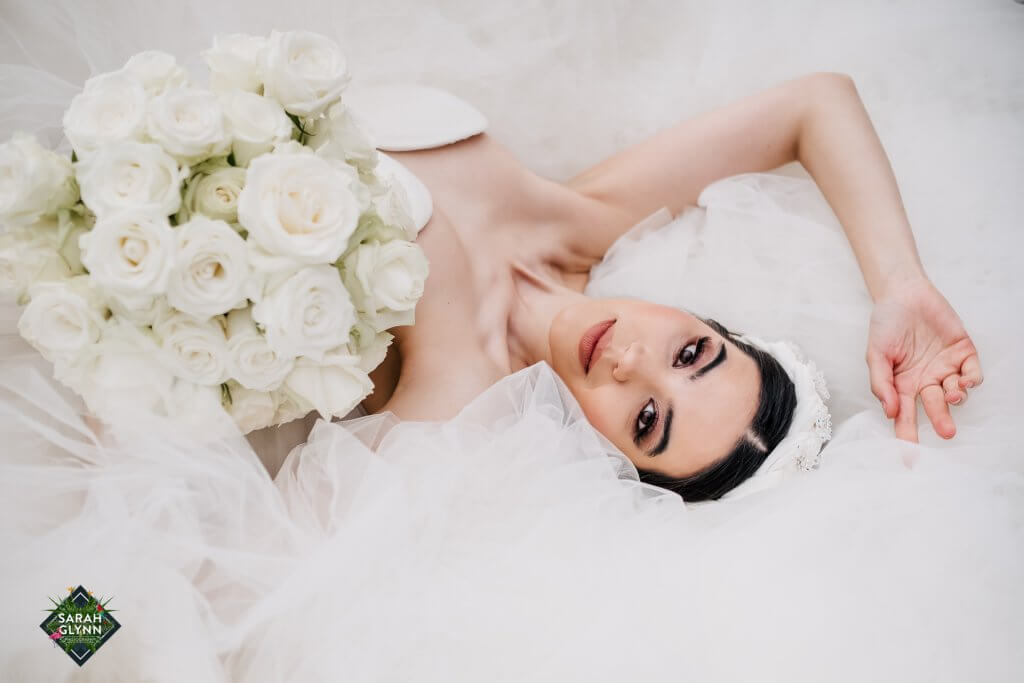 Our accessories were absolutely killer. There was this absolutely beautiful crown, a Swarovskii crystal shrug, embellished headbands (dear lord I love a headband) Ann is just insanely talented and a bit bonkers so again she totally fitted in. She generously bought headpieces, earrings, shoes, jewellery it was like we'd found the worlds biggest treasure chest she was absolutely amazing and so much fun on the shoot. http://www.eleventhheaven.com – Manchester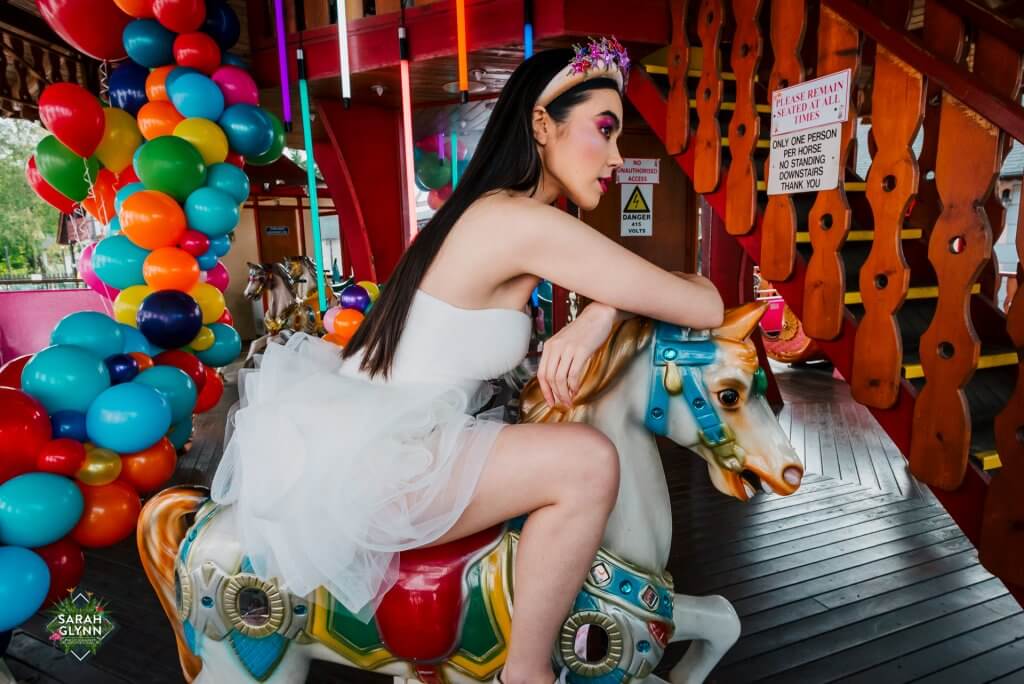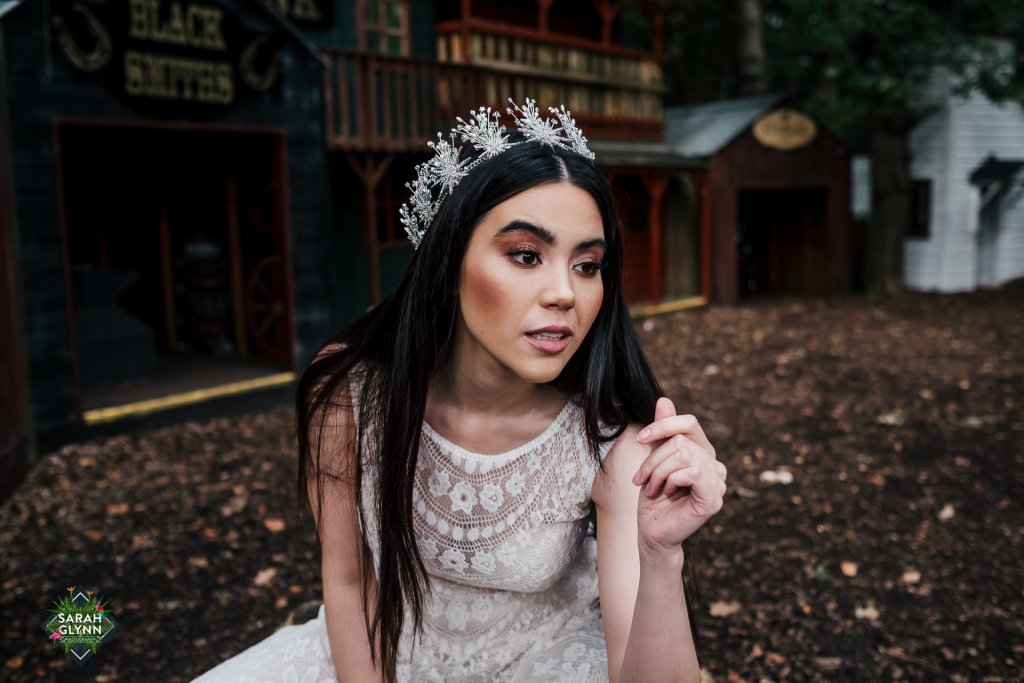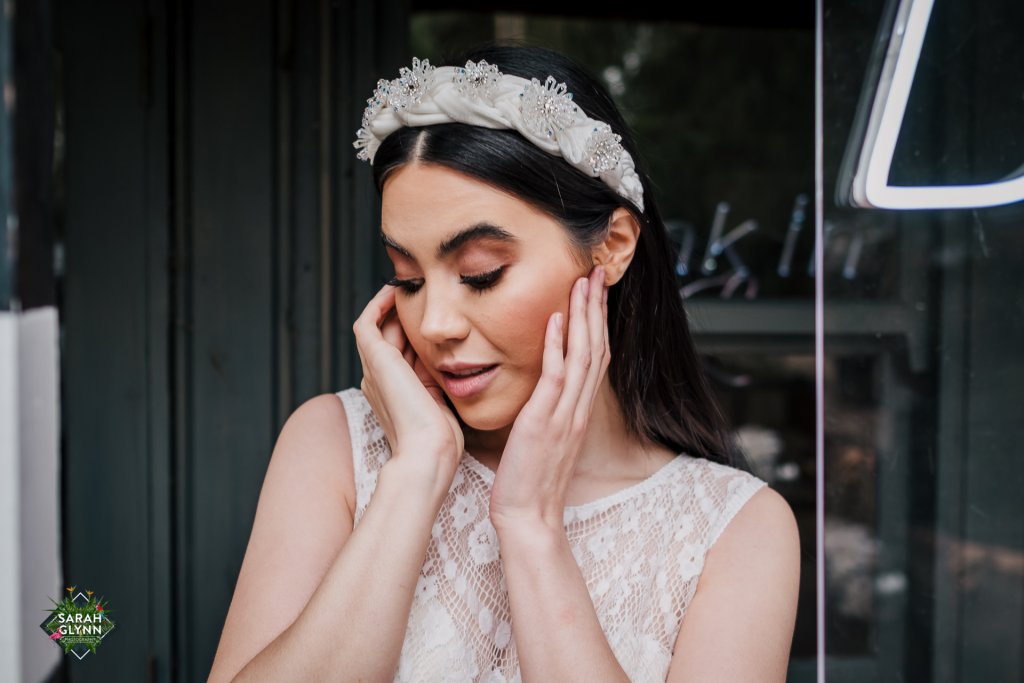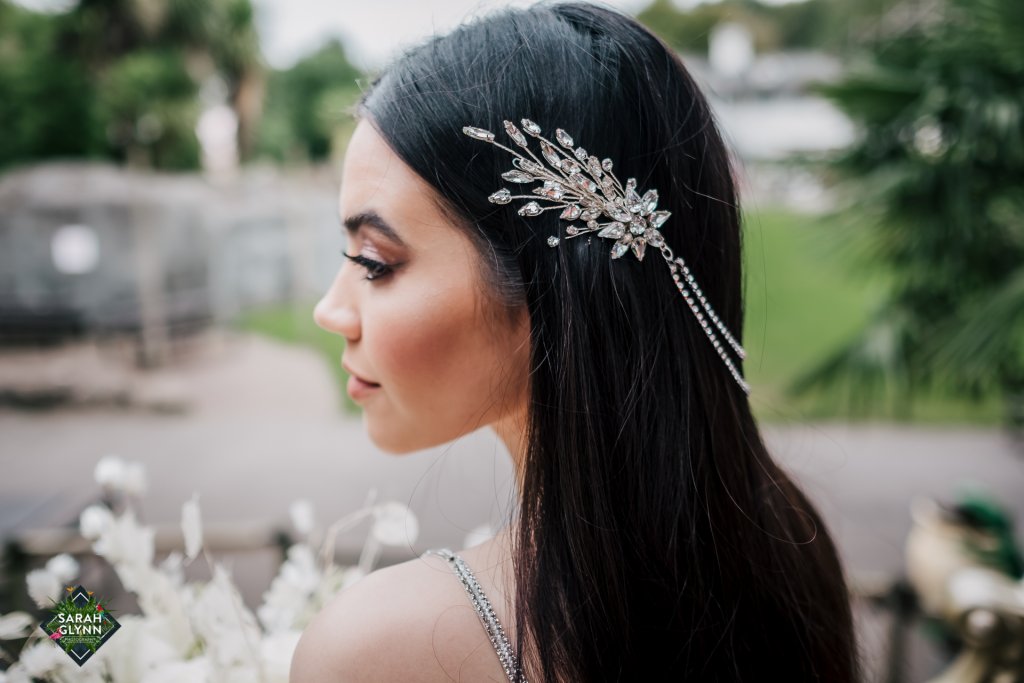 The first person I contacted about working with me on this shoot was the epic Mat from Red Floral. https://www.redfloral.co.uk He has constantly set trends, and is absolutely fearless. The creativity and genius of this man is absolutely off the scale, the weddings he does are like no other and he is such an inspiration to be around. The bouquets were all masterpieces. The all white roses worked perfectly with the dreamy romantic feels, and the stunning frosty wintery silvers in another just took the ice queen shoot to another level, and the soft hints of pinks in another effortlessly complimented our Disney Princess theme. He also created some fun and dramatic backdrops with balloons from Balloon Boutique on the carousel, rollercoaster area, pirate ship, archway, Wild West area, and for the final Ice Queen scene. https://www.facebook.com/balloonandballetboutique/ – Manchester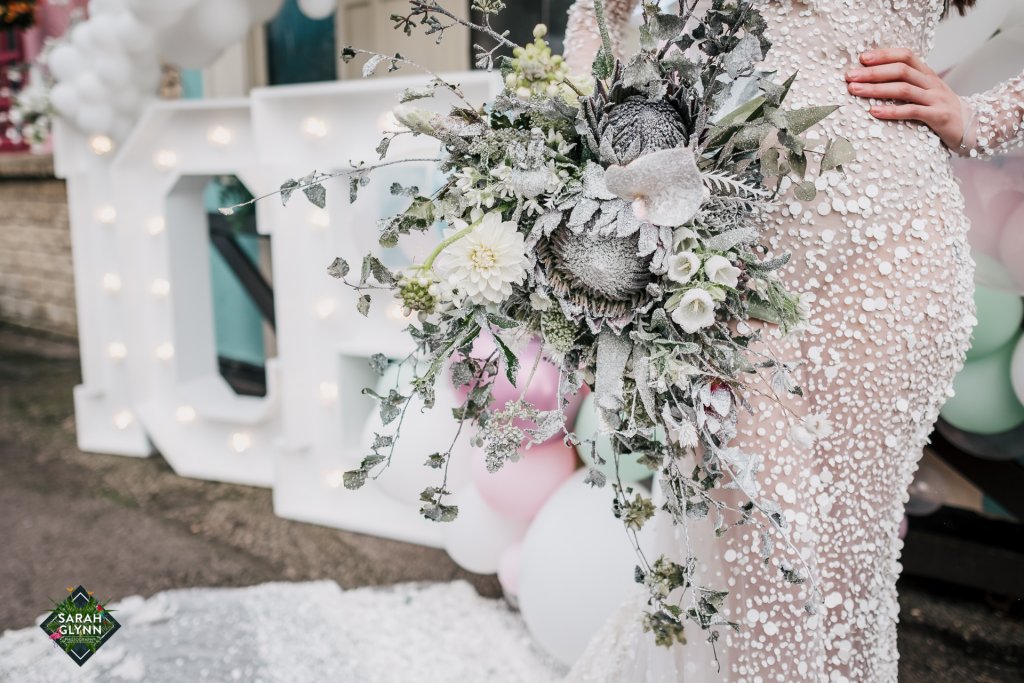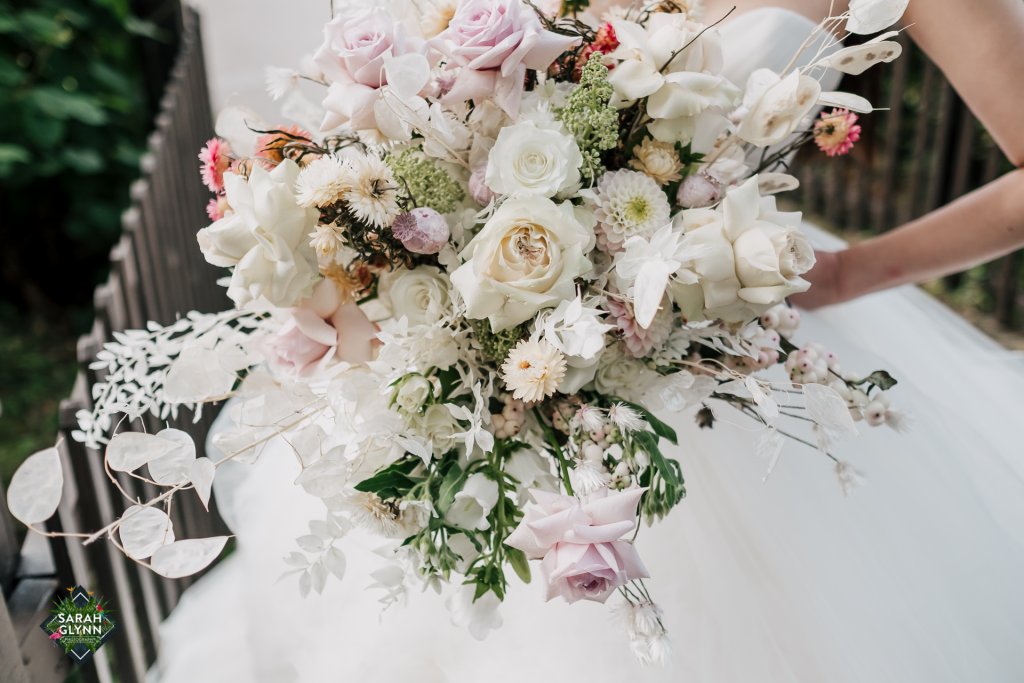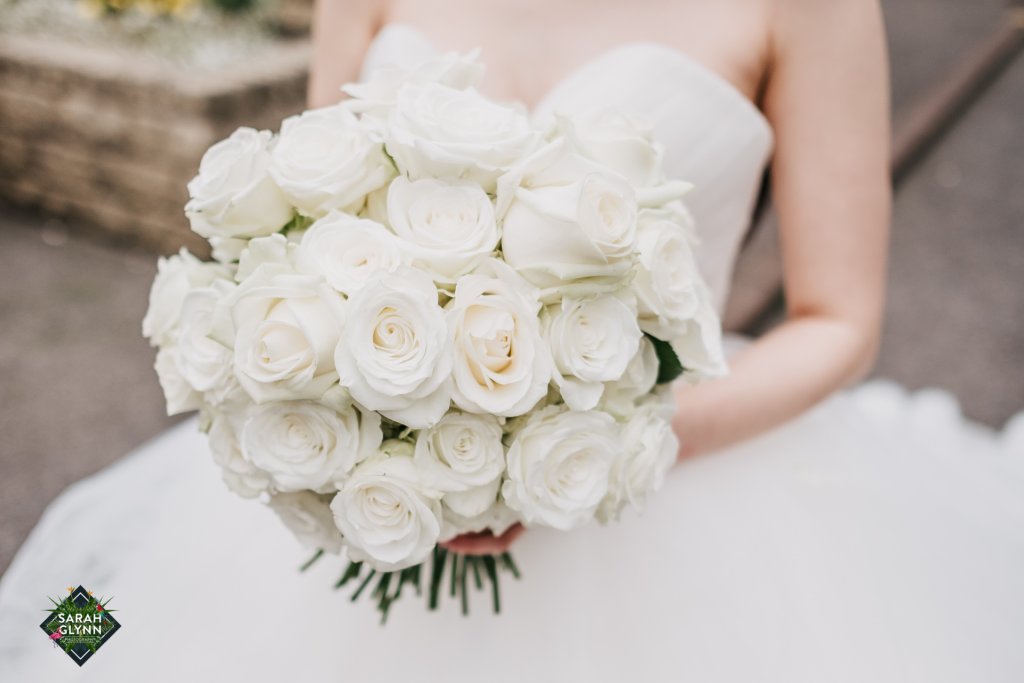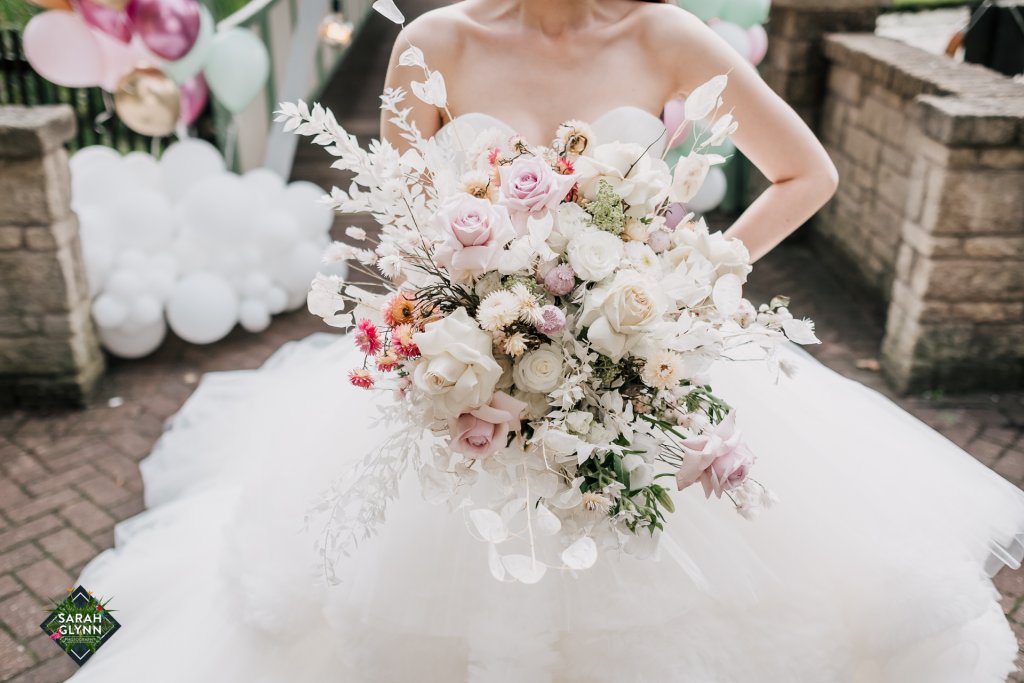 Stacy is a really good friend of mine and I absolutely adore all of her and Charlottes creations. She is totally bonkers and super lovely so obviously she was perfect for this shoot. The A frame just transformed the bridge and made the Disney princess scenes and the Neon tubes looked insanely amazing on the carousel and pirate ship. They didn't have an easy task and weren't familiar with the park but quickly just worked out their vision and it totally looked amazing! The drunk in love sign in the western world looked so cool as did the you light up the sky neon and the Ice Queen final set was just a different level of fabulous. https://www.lovelightstheway.co.uk – Manchester and Yorkshire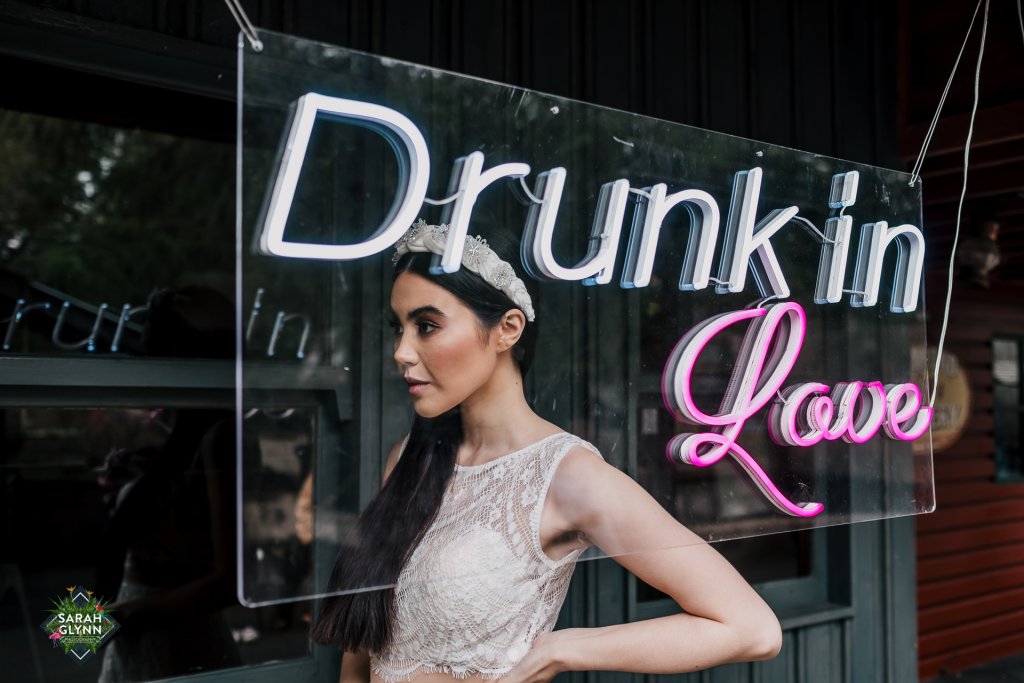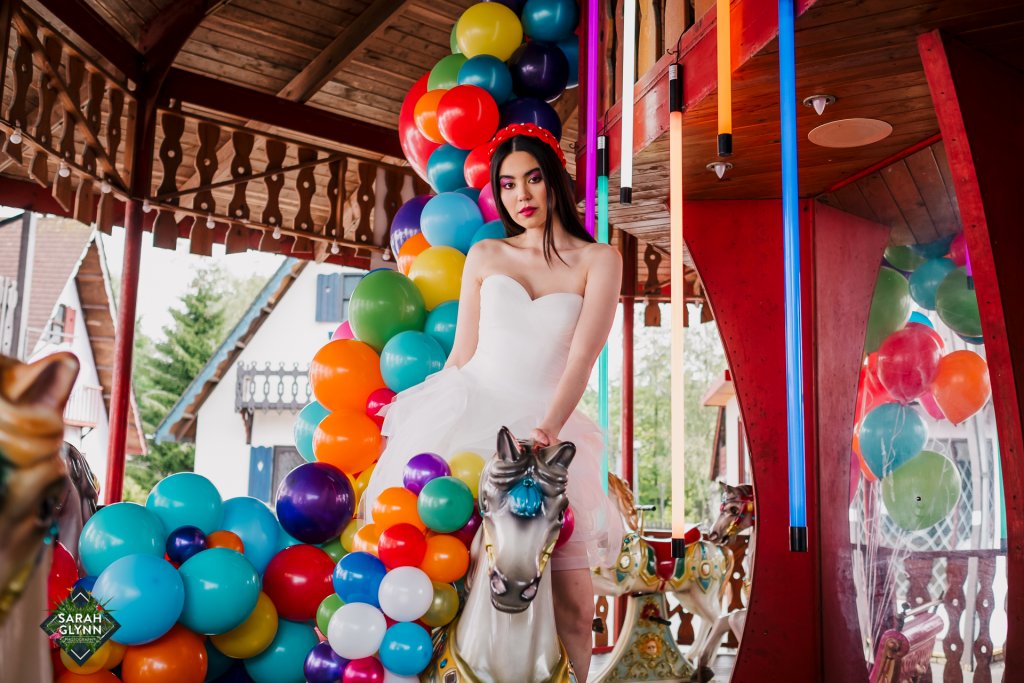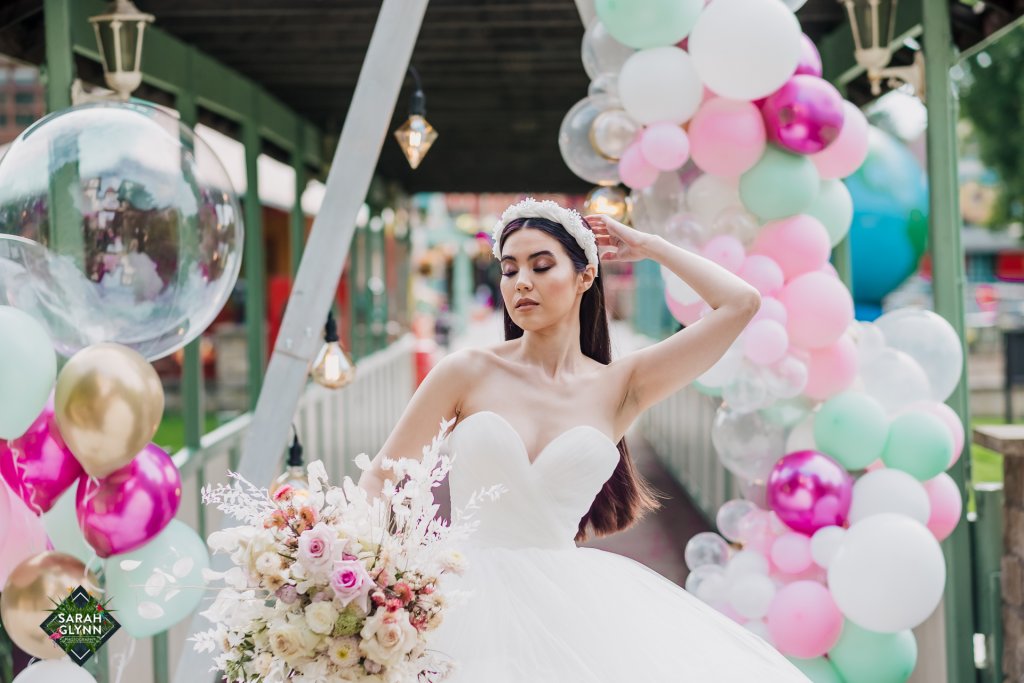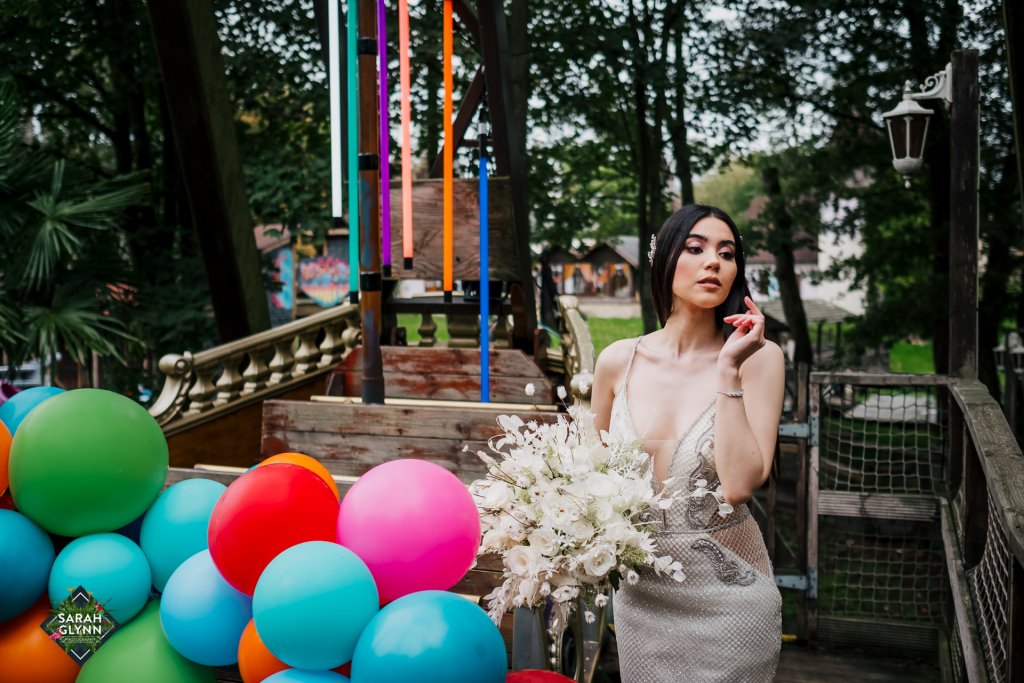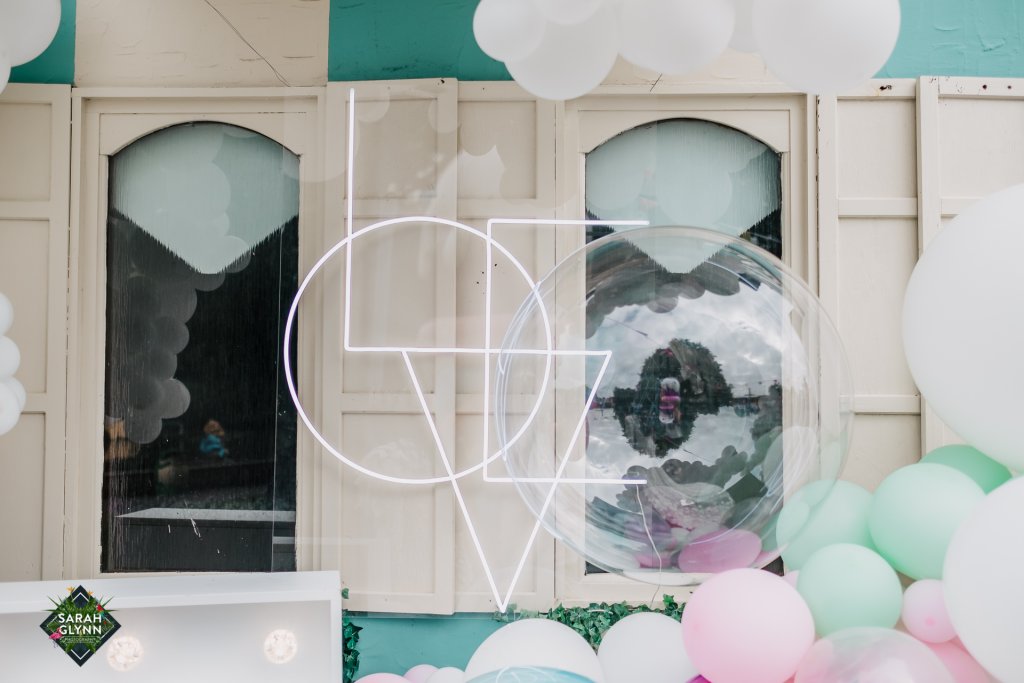 Tony and Sara are the loveliest and an absolute dream to work with at weddings and on styled shoots I just love them. They even treated us and brought their dog along who was the worlds best behaved pup ever! They created the most gorgeous and magical video which perfectly captured this fun and romantic shoot – https://www.marrymefilms.co.uk Manchester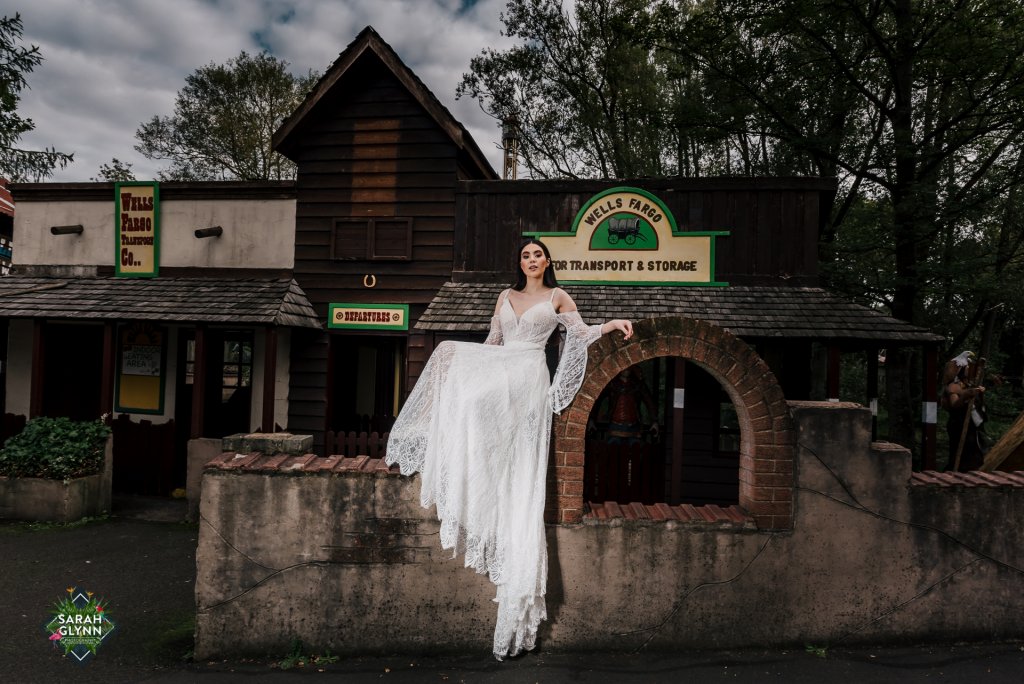 The first theme was Wild West and fittingly was shot in the Western World. The buildings, backdrops and signs were incredible for framing the images and the boho style dresses form J&J just worked perfectly. I wanted to shock people that this was shot in a park and to feel like they had travelled to the set of a western.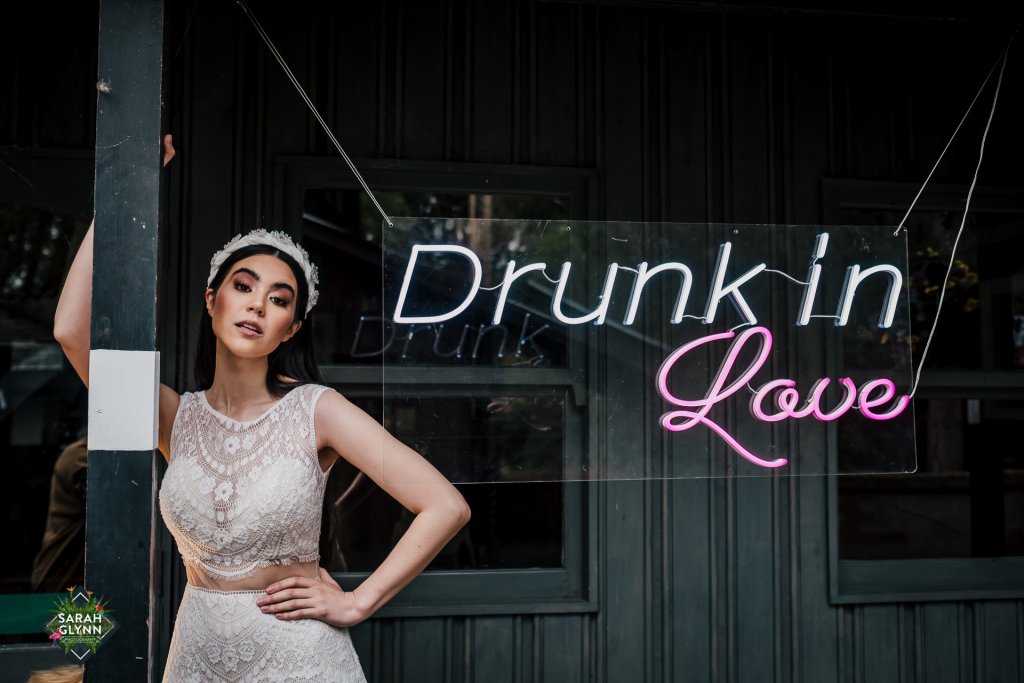 I loved the Neon theme and this section was for going totally bonkers and out there but also making it work and look stylish. I think everyone nailed this and the balloons on the carousel with the neon tubes and the crown of spikes with the ballerina style wedding dress and neon make up…shouldn't have worked but TOTALLY did. I loved all the different headbands and Tinks even made the balloon dinosaur look cool.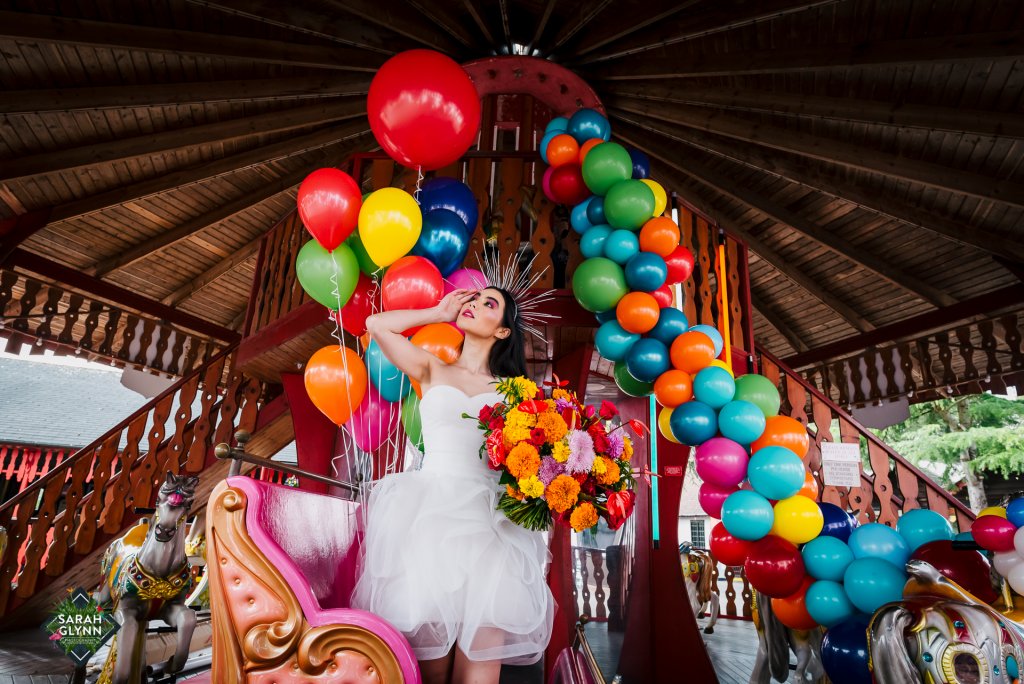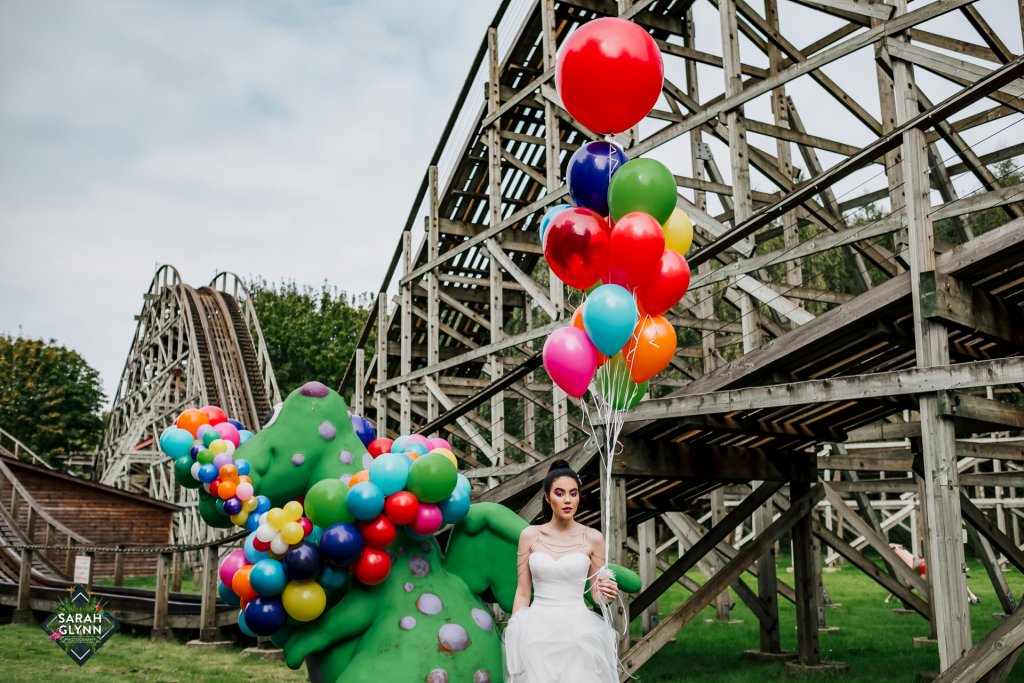 The Disney Princess section was all about embracing the classic dreamy big dress bride and creating something soft and magical.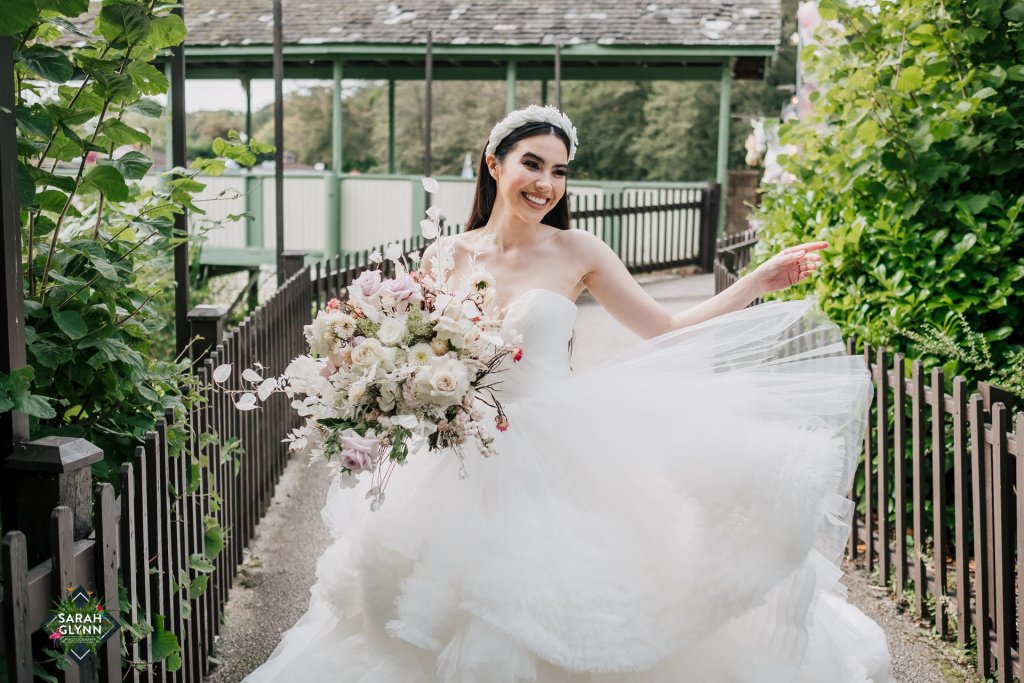 The Ice Queen was an ode to Elsa and the new Frozen 2 movie which is out in November. The cool frosty colours mixed with pinks and glitters were phenomenal I cant believe how amazing it all looked!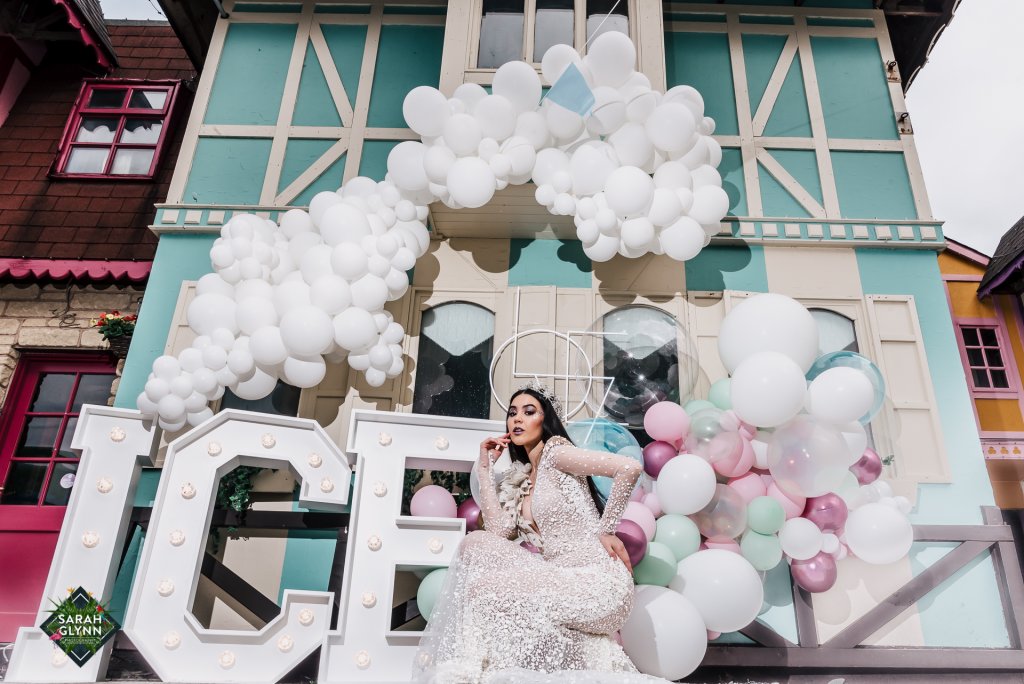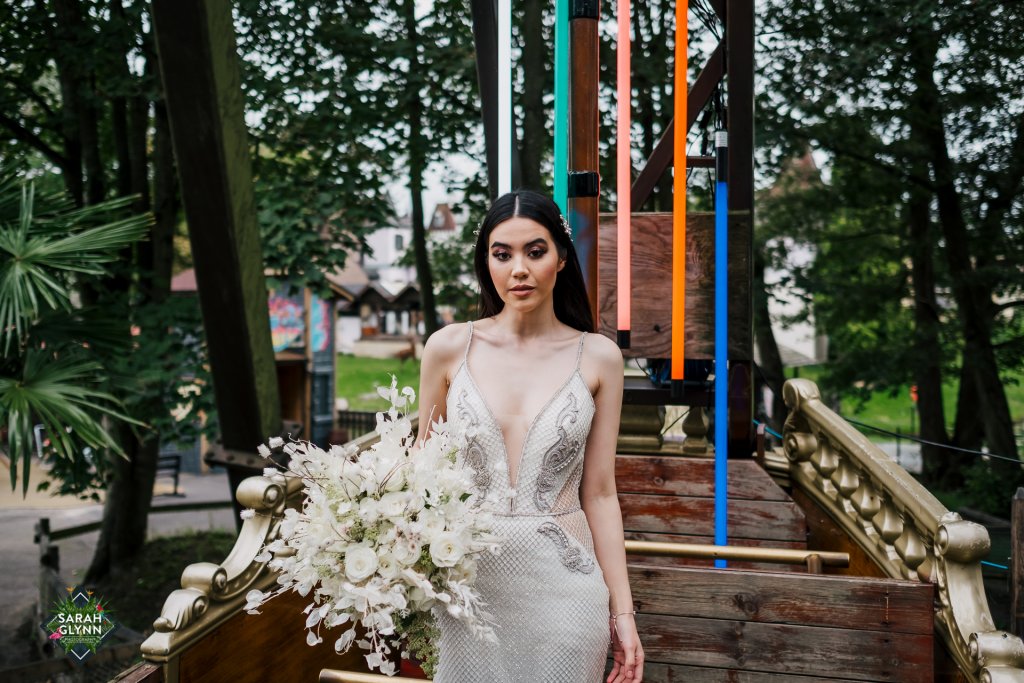 The fact the shoot took place in a park immediately makes everything a bit more surreal and magical which strengthened all the dreamy themes. I loved the colours and backdrops and wanted to transform this super fun place into an ultra cool, glamorous and breathtaking bridal shoot. I absolutely love shooting with natural light.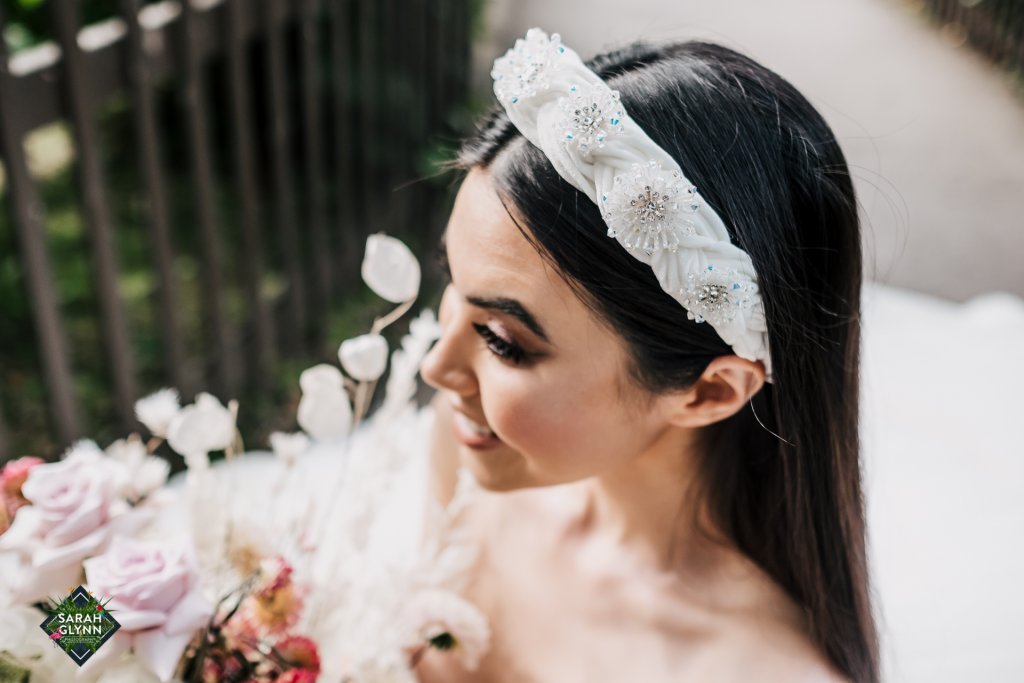 Theres so much shooting potential at Gullivers World so I felt it was important there was a section which was kind of showing the park in its natural state and not dressed to the nines. This meant that the first section ' Wild West' was a bit more stripped back. The natural colours and wooden surroundings gave an earthy feel which worked fantastically with the boho theme. It was really good fun being free to create what ever was in my head and there were some super cool details to work with here.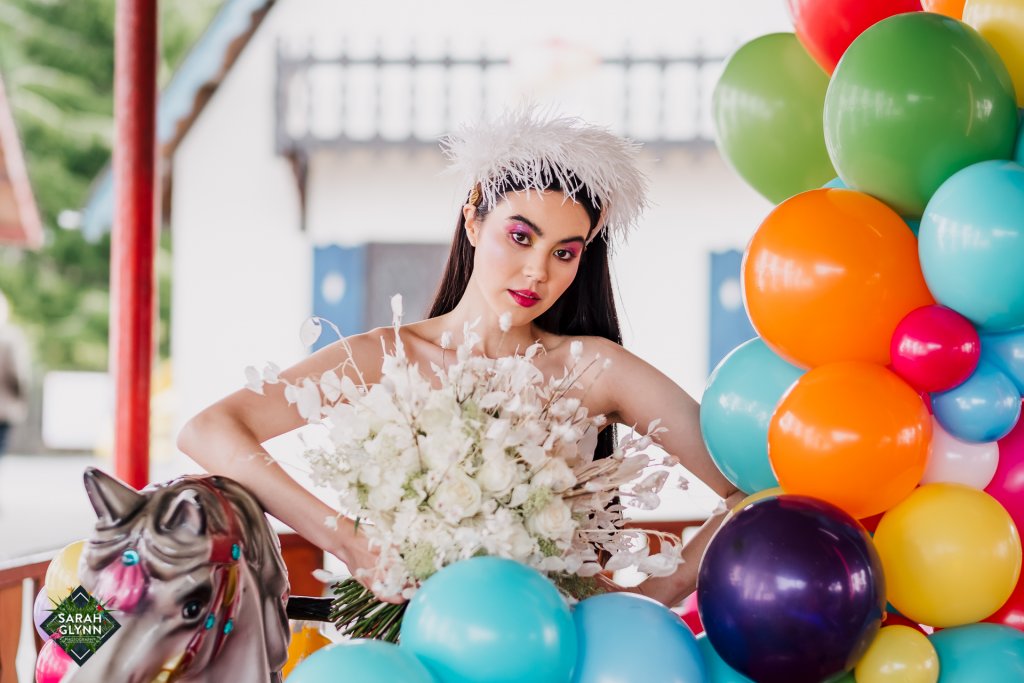 I'd worked with nearly everyone before and we are all linked together ins some way so I was confident it was going to be fabulous which totally takes the pressure off. I just thought the whole thing was absolutely sensational and next level and Im so proud of us and happy we were able to do this shoot! Massive thank you to Gullivers World for making my dream come true.
Everyone smashed it and created 5 totally different looks in the end, we worked as a team and it was a beautiful, gorgeous, crazy shoot.
Photography: Sarah Glynn Photography
Venue: Gullivers World
Make Up: Make up by Andrea Baines
Flowers: Red floral architecture
Neon and lighting: Love Lights The Way
Dresses: J&J Designs
Accessories: Eleventh Heaven
Balloon: Ballon Boutique Events